SpaceCoastIRadio.com
Is Filed With Florida
Secretary of State
Registration #G11000098102.
Doing Business As
SpaceCoastIRadio.com
(Music Playlist)
If You Were Away
From Your Media Player
This Is What You Missed!
Last 10 Songs Played.
Click Here To View.
Click Above Image To View.
News Outlet's View RSS Feed's!
Subscribe To
SpaceCoastIRadio.com
Playlist Feed|Click Here!
Opens In New Window!
Free Media Players
Click Here!
Free Software
Click Here!
SpaceCoastIRadio.com
Chat Room Invite Your Friends And
Chat With Them. Click On Above Image
To Use This Chat Room!
Opens In New Window!
Todays Date

Above World Map Posted
September 17, 2011...
SpaceCoastIRadio.com Can Lead You To The Music
Can't Make You Listen!

All Songs Played Are Paid Royalties To Sound Exchange!
Even Songs Played On Our Event Shows...
More Details On This Artist & Song Now Playing
Click Here|Opens In New Window!
Some Cover's Might Not Match Artist Now Playing.
Current Listeners With Media Players Tuned In Now:
Maximum Listeners Programed:
Listener Performace Pays Royalties|Pennies Can Be Dollars!
---
---
Click Accuweather Image Above|Opens In New Window!
United States
East Coast Time!
SpaceCoastIRadio.com Is
Licensed Through StreamLicensing.com
With The Following
ASCAP, BMI, Sound Exchange, SOCAN & SESAC
SpaceCoastIRadio.com Pays Royalties To
StreamLicensing.com And StreamLicensing.com
Pays Sound Exchange!
Click Above Image To Vote
Opens In New Window!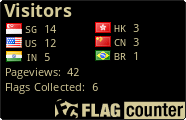 Above Flag Counter Posted
February 14, 2014...
Our Live365 Station
Click Here!
Johnny Cash Page
Click Here!
Steve Martin
Lexington Broadcasting
Click Here!